On the second day of the trip, we checked out of the Fuji-View hotel and headed out to Tokyo Disneyland YAAAAAAAAAAAAYYYYY! Did I say how much I love being in Disneyland?? I went to Disneyland on 3 consecutive years, twice in Paris and once in Tokyo on this trip which was last year. I didn't get to visit Disneyland this year, and I'm already getting withdrawals!! The closest thing I got to visiting Disneyland was when I was in the entrance area of Universal Studios Japan during my recent Japan trip in April. The music blaring out of the sound system was enough to send me into a stupor. I had to resort to listening to Tchakovsky's Nutcracker in the office, with tears streaming down my face, clutching a Mickey Mouse Pillow (ok the last bit was an exaggeration)
So anywaysies, before checking out, we wandered about around our hotel area, I'm betting it's gorgeous when the sakura trees planted around the hotel finally blooms.
We also found, right before we check out of our hotel, beautiful yukata-like garments folded neatly in our rooms. The reason that I'm not sure whether it's a yukata or not (I bet it is, but I just can't be sure) is because I've never seen anything like it. Usually, the yukatas provided by hotels are for the purpose of going to onsens, and is usually made out of cotton. But the yukatas in our hotel were made of this really thick and shiny material, which I have never seen before. Plus, the yukatas came with a set of chancanko (that green vest you can see worn over our yukatas).
So, the rule of thumb of us Cik Kams were, if you find something unusual, especially those we can wear, wear it, and take a group picture with it, like the picture below.
Once we were done fooling around with our yukatas (oh, best believe we spent an hour taking pictures of ourselves in this yukata), we checked out, and made our way to Disneyland. (again, YAAAAAAYYYY).
The driver from the other day picked us up, and sent us to Disney Ambassador hotel in Tokyo!! Unfortunately, I don't have the picture of the hotel we stayed in, on hand. It's probably in my mom's memory card (the pictures I put on this blog are all from my Facebook album), but she's in Setiawangsa (well, in Paris as I'm writing this). and I'm in Damansara, and it's just soooo hard to dig up! So here, a picture I got off of the Internet. It looks so retro and cute doesn't it?
image source: minkara.carview.co.jp
The hotel is adjacent to this shopping complex called "Ikspiari", and it was really convenient for us to get food! (and for the parentals to shop. leuls)
The hotel is connected to the shopping mall by a courtyard, like below (again, picture courtesy of the internet)
image source: tripadvisor.com
Tickets to Disneyland can also be bought at the ticket center which was located at the Ikspiari Shopping Centre (for those who does not want the hassle of lining up at Disneyland to get their tickets). A thing to be noted though, since it IS a HUUUGE shopping center, it will help to get a map of the place at the entrance. They have the maps in several languages available.
So since the mommer bought our ticket online, we just showed them our reservation sheet, and picked our tickets here! Again, I do not have the picture of us holding our tickets, it must be in my mom's memory card. Ugh this entry sucks ballz. But I have the picture of the ticket center, so here.
We bought the three days pass ticket (first day at Disney Park, second day at Disney sea, and the third day at either Disney Sea or Disney Park), and we can only get to the park the following day, had lunch and just spent our time wandering about the shopping centre.
Now as we all know, Japan is a very efficient country. So, their efficiency is spread throughout the lifestyle. I don't even know what I'm writing.
Ok. For example, their food court. Well, in Malaysia at least, you order a food in the food court, and you either wait there until your food is done cooking, or go sit somewhere, and keep on checking at the counter you ordered your food at, whether your food is done. "But you can sit somewhere near the counter right?", sure, sure, but if you came with your friends, y'all are gonna have to eat from the same stall, otherwise, the problem still remains.
But of course it's different in Japan.
Once you've order your food, they'll give you this device (as pictured below), and once your food is done, it lights up and beeps!! So, it really does not matter where you sit. Can we please implement it here please??
Oh written in the receipt is basically our food for the duration that we are in this resort;
Ebi Fry set
Omelet Rice
They were so good though!
After we were done exploring the shopping complex, we just relaxed in our room.
I went for a leisurely soak in the tub, because it was freezing, and my legs are sore from all that walking!
The room in the hotel looks something like the below. But I might be confusing it with the one we stayed in in Disney resort Paris. (did I say this entry sucks major ballz?)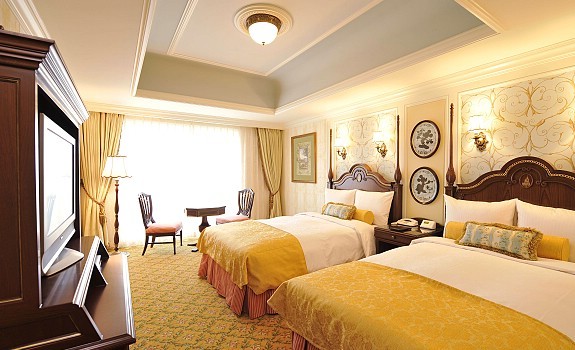 My mom, being an immaculate planner (a trait which she passed down to me - I made a PowerPoint slide, and numerous excell sheets for my Osaka trip, and I practiced walking on google street for our 2015 trip) , came into our rooms with the Disney park maps as usual, and asked us to plan our route for tomorrow. So we did, and just sleep with a warm anticipation (warmth is caused by fever in Alya's case) for the following day.
Till the next post!
Much Love,
Xs and Os